There are Capsule Bed Rooms both for men and for women only at Guesthouse Shubou-Tamajiman.
SAKURA for men only capsule room has 16 rooms (one person per room).
UME for women only capsule room has 12 rooms (one person per room).
There are air-conditionings and Wi-Fi in each room.
For your suitcase or carry bag, Luggage room is available for Hotel guests.
Commitment to Comfortable Sleep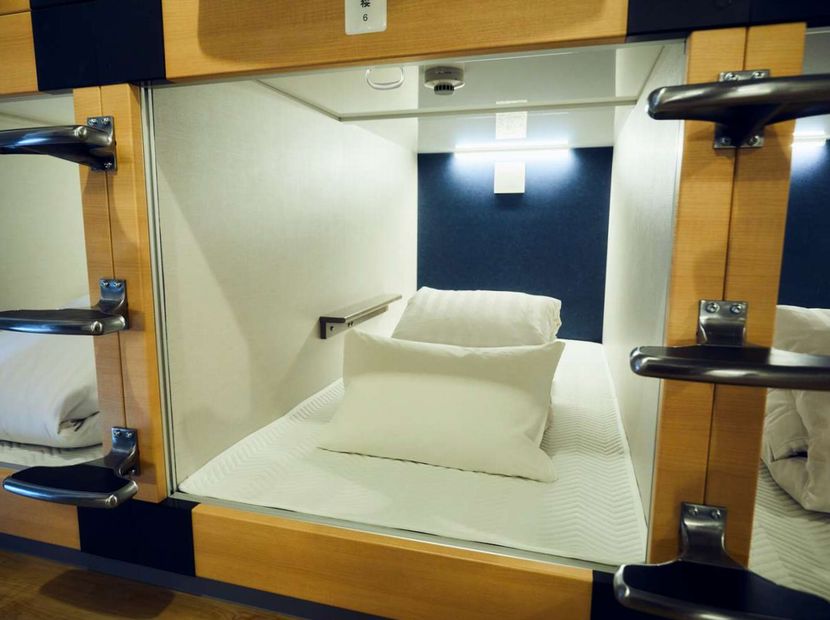 Generally capsule bed size is 90cm wide, 90cm tall, 200cm long.
Our capsule bed size is 90cm wide, 100cm tall, 210cm long, slightly wider for your comfortable stay in Shubou-Tamajiman.
2 outlets in the capsule bed allow smooth charge.
Privacy Consideration
Once you roll down a roller blind, you can enjoy your own private space.
Earplugs and safety boxes are available for free.
Linen and Amemities
We have a face towel, a bath towel and a bath mat in your room.
Please keep it in your mind that there are no night clothes.
In case you need the following amenities, you can buy toothbrush, hair blush, razor for 50 yen, slippers for 300 yen.
Guesthouse Shubou-Tamajiman